A previously published article on rnzpba.com, extracted from the August edition of NZPB magazine on  Ali MacKenzie – "Our Newest Legend", included reference to then lead side drummer Scott Birrell, and the influence he had in the recruitment of Ali to Invercargill. We thought it fair and fitting that we should take one further step back, and catch up with Scott to find out his story.
Scott was raised in Burntisland, a town of about 5000 in the Kingdom of Fife, and directly across the Firth of Forth from Edinburgh. His grandfather was a drummer in the local pipe band, playing tenor and snare, and was Scott's introduction to the pipe band scene. "It skipped a generation – no one else within our household had been involved with the band. My dad had every opportunity as a youngster but preferred to go kick a football around rather than going down to the local band hall, which was a stone building, freezing cold, which didn't appeal to him" Scott explained. Interestingly, his father did start learning the pipes at around age 40, and still plays in the band to this day. "He's currently the chairman of the band and pretty much keeps the ship sailing".  I had to ask the question "is he a reasonable piper?". "Aye – he's no' bad."
So this was the start of Scotts pipe banding, at age six, but it wasn't until around age nine that "the penny dropped" and he became more involved, playing out with the band and competing in solo competitions. "Through those early years I always looked up to my grandfather. He'd come and pick me up, and it was an opportunity to go down to the band hall and spend time with him". At that time there was a strong teaching programme, and a number of Scott's friends were also in the band as young players. "There was a guy called Mark Gibson (lead drummer) and the pipe major Jim Forbes – those two guys had a great way with kids, but also very competitive – driven. I was surrounded by people from the town my own age, and through my early teens, we were winning major championships in the Juvenile Grade in Scotland. When I think back to those years, Mark was a key tutor in my life"
At age 16, the local scene had changed.  "Some of the players who were a little older than me had finished school and moved on, and all of a sudden we found ourselves with not enough players to go and compete". Scott was at a crossroad – does he sit and wait to see what would happen, or would he go in search of another band?  Scott continues – "At a competition my dad got talking to Tom Brown of Boghall & Bathgate Pipe Band, and I got hooked up for lessons with Tom over the winter. This was about 2002". This was the start of his Boghall & Bathgate journey. At that time Boghall had a Grade 2 band, and that was where he was heading. "I went to Tom's for lessons in his garage, away from the Boghall practices, twice a week, then eventually I was invited to go along to the Grade 2 drum corps practices. I played with the Grade 2 band in competition that year. It was a big transitional time for me as the Boghall drumming style was quite different from what I'd learned under Mark Gibson, who had been strongly influenced by Paul Turner". 
The Scottish Power drum corps.
We paused a moment, given the significance of this move. With his Burntisland Pipe Band cohort, have others gone on to bigger and better things? "There were three of us who carried on. David Ross was one – he hopped around a little bit including playing with Dysart, then with Shotts under Jim Kilpatrick, and more recently with Glasgow Police. John Henderson was another. He left Burntisland to play with Dysart, then Scottish Power where he played for close to 10 years, then joined Inveraray". Quite a legacy for Mark Gibson and his teaching days.
Scott joined Boghall Grade 2 under Drum Sergeant Callum Firth, but unfortunately that year the Grade 2 unit disbanded. The pipe major moved on and the band lost direction, which as Scott suggested "was a bit disturbing as this was the second time I'd been in this situation in 18 months".  The drum corps had been together for quite a long time, and stuck together, with a planned move to join Torphichen. "The reason I joined Boghall after my Burntisland years was I saw it as an opportunity to progress to a Grade 1 band, so this was another difficult time for me" Scott explains. "If I followed the corps to Torphichen, I may never get that opportunity". So he spoke to Tom Brown and asked if Tom thought he had what it might take to play in the Boghall Grade 1 corps. We are now heading toward the 2004 season. It was a big year for Boghall and Bathgate, doing the pre-Worlds concert. "I was kind of in and out. I played in the concert and a couple of small competitions that year. I was 16 and could probably have done with another year in Grade 2". Scott considers himself fortunate to be part of the band at that time, although he knew he had to put the effort in, as the change in style he mentioned earlier was still to be mastered". Upon reflection, Scott thinks of his parents. "I owe them a lot. You know, my dad drove me 50 minutes each way twice a week to practices, plus the time he waited for me. This was when he took up the pipes, so while I was at practice, he'd be outside playing his practice chanter!".
It was during this time that Scott considers his drumming developed to new heights. Lessons with Tom Brown, then ultimately playing in Boghall Grade 1 under Gordon Brown, it was a period of immersion. Scott spent five years with the Boghall Grade 1 band. "When I think back to the early days, it seems funny.  It was really quite relaxed, but soon after, things changed and became far more serious, and before long, we were featuring in the top six drum corps in competition". Now THERE is a lesson in itself.
Around this time, the National Youth Pipe Band of Scotland was established. It was formed in 2002 but started performing in 2004. Scott was part of the band when it first formed and played at its first public concert at the Royal Conservatoire of Scotland (then known as the Royal Scottish Academy of Music and Drama, or RSAMD) – the provider offering a Degree in Scottish Music. "This was a really exciting time for me, meeting pipers and drummers from all over the country, and playing in a band with lots of other instruments, something I'd never done before".  He was involved with the youth band for just a couple of years and found himself in "a bit of a situation", whereby Gordon Brown wasn't a huge supporter of his drummers playing with the youth band. The concert was held just a week prior to the World Championships, despite the National Piping Centre committing to not hold events that would conflict with major competitions. It was decision time again for Scott. "Do I stick with the Youth Band or am I going to stick with Boghall?" He reflects on some great experiences with the youth band, including playing in a number of Celtic Connexions gigs. "One of the best trips I've ever done was with the youth band – we toured the South of China at the Nanning Festival. It was incredible. We travelled sometimes 10 hours a day, but the experience was amazing. We played in front of a crowd of 100,000 people".
The Youth Band days were great for Scott, and he branched out into other forms of percussion, including the bodhran, and whilst at school, also learned the clarinet and piano. Although proficient on the latter, he was certainly more confident on the former, and having a second instrument was likely to support his endeavor to enter the Conservatoire. "I put all my energy into percussion, but I'm glad I played the clarinet". Although admitting to probably struggling with a clarinet if handed one now, "but it's helped me a lot, particularly when it comes to composition, and just understanding the bagpipe melodic line in an ensemble sense, and from a practice point of view.  I'm always humming the pipe tune – I can't practice in silence". 
The Degree course at RSAMD was 50% performance, 50% academic degree, so there was a lot of playing. They had individual and group sessions. "There were four of us at university together doing the degree, and Jim Kilpatrick would have them in for an hour session each week, as a group, "and those were the best sessions – internal drive and competition".  He continues – "Jim used to come in with this drumometre (a what?) which recorded how many beats you could do in a minute – you know – (emulates a couple of dozen singles – not sure how to write this).  By the end of it your arms are nearly falling off.  We'll probably all get RSI (laughs)! Jim used to beat us all hands down. Legend!"
"My year group (at the Conservatiore, 2005 to 2008) was quite small– about 16 of us. We were essentially a 16-piece band". Their weekly timetable included group rehearsal two or three hours a week. In his first year they toured the Isle of Skye for five or six days, the next year in the borders, and also toured in Germany and Denmark. "It was really cool – putting the snare drum into performances with the Scottish harp, the accordion, the fiddle. We had to try and figure out how we were going to do this". Although they had a tutor for these rehearsals, they were in charge of their own destiny. "This was an incredible time".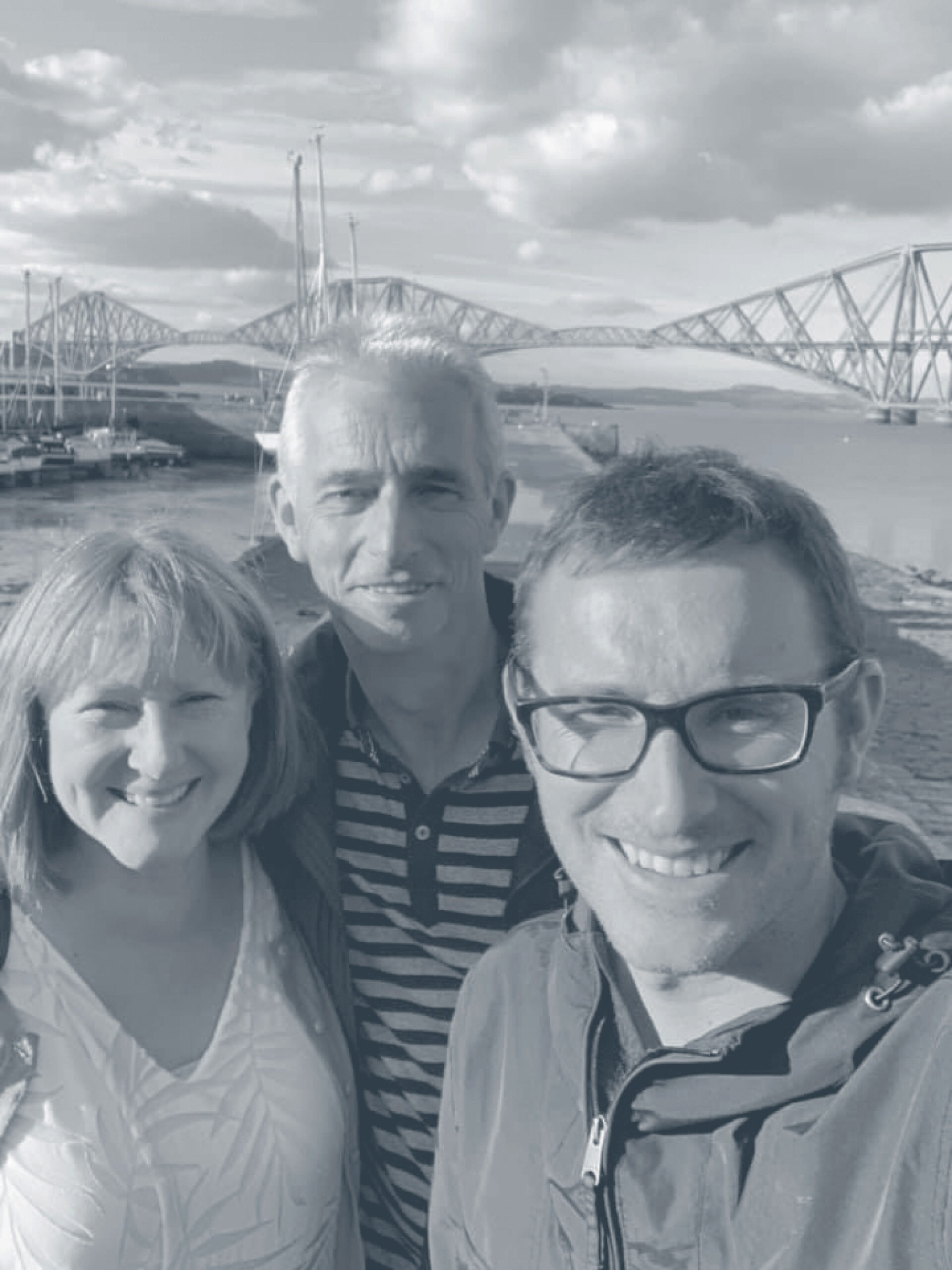 Scott with his parents on the Firth of Forth.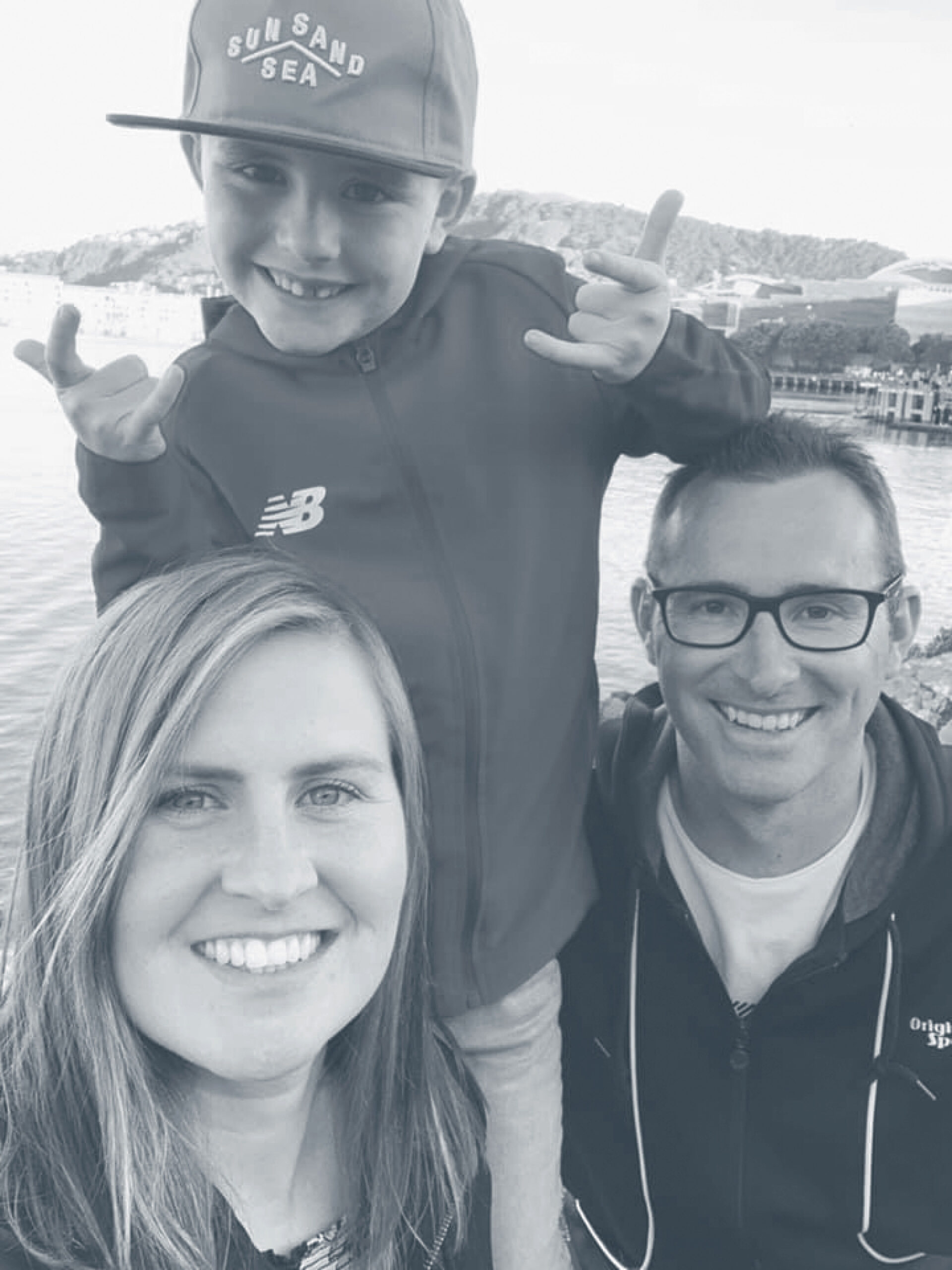 Amie, Olly and Scott.
Right – time to get serious here. "So Scott – lets look at your Kiwi experience".
Halfway through his final year of studies, a friend spotted an advert "on some Australian forum" for a drum instructor for the Southland Piping and Drumming Trust. He submitted his application, and was then due for an interview with Allister Macgregor. "I remember waking up one morning in my Glasgow apartment to a phone call from Allister saying 'are you ready'. There was a confusion in time difference – thankfully it wasn't my mistake [laughs]". Scott reflects – "I remember on the phone interview – there was Allister, Brendon Fairbairn, Quentin Wyllie and Greg Wilson, and at the end of it, I thought – I just trust these guys." The next thing he knew, Scott was here for the 2008 National contest in Papakura. He had to convince the university to let him come here for three weeks, but established that it was a career opportunity, and "eventually got their blessing".  
Allister met him at Auckland airport, and saw him to his connecting flight to Invercargill, where Quentin picked him up and drove him north to Edendale. "If it wasn't for the road signs and markings, I could have been home in Scotland".  
Scott played with the Southern City Pipe Band at the 2008 contest in Papakura. At the end of this three week visit, "I shook hands with Allister and said  – see you in September. At some point there, we agreed on two years. Not sure what happened, but 13 years later, I'm still in the southern hemisphere". Scott thought it was "funny how that happened", but I had to remind him that it wasn't an accident – it happened because, as Scott said himself, "Macgregor was in charge". "Allister was the backbone of the operation there – he was the fix-it man. If ever we needed him, he would just arrive.  Allister had a lot of trust in me,  which enabled me to start my career. I've nothing but praise for him."
By the time Scott returned after the initial visit, things had changed significantly in Southland. Southern City and Invercargill Caledonian had effectively disbanded, and re-emerged as a new entity, City of Invercargill Pipe Band, with whom he was set up as lead drummer and drum tutor, and took the band to the 2009 contest in Christchurch where they won Grade 3. John Fleming was pipe major but unfortunately didn't take the band to the line at the contest – Roy Clearwater assumed the position. It was shortly after that Ali Mackenzie was brought into the scene, and this was when things really "started to take shape". Scott explains, "I had to sit down with the Trustees and tell them that to push forward, they needed to find someone to advance the pipe corps to the next level. I knew Ali from Uni back in Scotland and suggested he could be worth contacting". It was just a few months later when Ali move to Invercargill.
As a team, Scott and Ali did a lot of teaching in the Southland region, travelling to schools and bands, trying to build the greater Southland piping and drumming scene, but found they were spending too much time on the road, so ultimately, centred their work in Invercargill. The focus began to reap rewards, and the band would develop to compete at the top end of Grade 2. "We did a lot of concerts too – Pipin' Hot was a big thing before I got there, but seemed to have had its day.  We revitalized this, and got huge public support behind the band. The whole city knew about Pipin' Hot. Often we were interviewed for the newspaper and even local TV. "These are great memories of the place. The support and kindness of the people was incredible".
One of the drawcards in both Scott and Ali's contracts was the opportunity to go back to Scotland for six weeks a year. "That was massive, especially for me. To be able to go back and keep our opportunities alive with the bands we knew; me with Boghall and Ali with Inveraray plus spend time with family as well".  
And highlights? "It would have to be the 2013 nationals in Timaru when we won Grade 2 and earned promotion to Grade 1. There was a bitter sweetness though, as I was about to move on, and never got to take the drum Corps to the Grade 1 line. The timing felt right to leave Invercargill, so it wasn't as if I was leaving the band. I had an opportunity before me to take some time in Australia to teach alongside Mark Saul at Scotch College in Melbourne". 
Scott headed to Melbourne, even though at the time his partner Andrea was expecting their child. Scott was required to start at Scotch on a particular date, so it wasn't until after Olly was born that Andrea moved to Melbourne. There came a time though that Andrea wanted to move back to New Zealand, and although it was a very difficult decision to make, Scott decided to stay, in the knowledge though that there were plenty of holidays whilst working at Scotch, so there'd be ample opportunity to travel back to NZ to see Olly.
Scott learned so much from his time with Mark, especially with the concerts they used to perform. "The whole environment was like a totally different life".  Scott arrived in Melbourne 2013, and early the following year, they decided to take the band to Scotland, so Scott didn't have a lot of time to get the corps up to scratch, but finished Equal 3rd that year in Juvenile. Since then they took the band to the European Champs on four occasions while Scott was there, as this event coincided with the school holidays. They competed in Novice A but in 2019 they took two bands, and the Novice B band won the European Championship. On each trip, the band finished in the top six in Novice A.
Whilst at Scotch College, Scott had worked with Ben Jones as a part time drum tutor, but as the corps grew, Ben became full time. Kyle Warren joined the team, and in Scotts final year there, Steven Sheddon joined. Scott and Steven had played in the Boghall corps some years prior. There was more to the Melbourne experience than just the college though, as Scott took the drum corps of Hawthorne City Pipe Band, under Pipe Major Mark Saul. "When I walked into Hawthorne the first time they didn't have many drummers. There was just myself and two others on the sides, and maybe three tenors and a bass. I had a scout around and picked up some great drummers who at the time were not actively playing in bands. With these guys, and a few we brought up from Scotch College we had a great corps. They were fun times". The band dominated the Victorian band scene and competed strongly in Grade 1 at national level. When Kyle Warren arrived in Melbourne, Mark handed the pipe major role to him, and then in 2018, the band won the Australian Championships.
Also while in Melbourne, Scott started a business selling drumming product, teaching online and running workshops in the local area.  www.scottbirrellpercusion.com
The year prior to winning the championship, Scott travelled back to Scotland to play with Scottish Power, and realized how much work he had to do to make that grade, and knowing that in 2019, the Power was doing the pre-Worlds concert, and didn't believe he could put all his energy into it. So he decided to make 2018 his last with Hawthorne. "I'd done the pre-Worlds concert with Boghall in 2008, and that year we won the drumming. I was also playing with the Invercargill band, and City of Adelaide under Olav Goud. I'd promised myself I'd never put myself under that much pressure again, living on the other side of the world. In the space of six months I had three band's repertoires, plus a full concert repertoire. So 2019 I figured I had to go to Scottish Power and focus on playing with them, so that's what I did". This was another point in his life when Scott knew he was faced with a big decision to make. "Deep down inside, I knew I wanted to be back in New Zealand. I was travelling back to New Zealand every School holidays to see my son Ollie in Invercargill.  As he was getting older, the good-byes were getting harder".
Scott and now partner Amie shifted back to New Zealand in 2020. Amie secured a job in Wellington so they were based there initially. Richard Hawke from St Andrew's College then touched base with Scott, and in no time at all, he was working at the College as full time drum tutor. "We moved to Christchurch in January of this year. The timing just couldn't have been better, and Amie was able to transfer to Christchurch". Scott hit the ground running, with the Hawkes Bay Nationals just weeks away. "The students were hungry as they'd not had a solid base of tuition for a while. Their response was incredible". Since the contest, Scott has settled well into the college band model, and thoroughly enjoying working with Richard, Graeme Bryce and Jamie McEwan as the corps team of instructors, and Alex Wilson working with the tenor section. "The college is a great sense of community – it reminded me of my Invercargill days. Even at my initial interview with the Rector Christine Leighton, Amie was asked if she'd like to join me, so it was a very inclusive process". It was the confidence that both Richard and Christine had in Scott and Amie, that the move to St Andrew's College "just felt right".
As we draw to an end to the interview, we touched on life outside bands and drumming.  Scott and Amie have bought a house, which is a fair suggestion the city is now home for them, and as a further commitment to their chosen home, they've bought a puppy. "Christchurch is a good central place for us.  Amie's work is still Wellington based so she can travel back and forth easily, and her parents are in Auckland so that makes visiting them easy too (when we're able to), and of course Olly is just down the road, so this is middle ground".  Scott continues – "This looks like home now. We've been enjoying the Canterbury outdoor life, including the ski season".
And the future?  Scott is looking forward to having a tune with Canterbury Caledonian. "Who knows when travel options might allow me to go back to play with Scottish Power again, but in the meantime, I'm hungry to be involved in a local band, and to be part of the local community. That's about all the future I know!  If you'd asked a year ago what the future might be I'd have had lots to say, but sitting here now, this is where we want to be. We're both really thankful to be here. A year ago we were sitting in MIQ at Christchurch airport and we had no idea what the future held, so now here with our own home, with a good job, who would have guessed. We still pinch ourselves".
We've learned a lot about Scott and what he's achieved, so I ask what message he'd like to pass on to younger players today. "I took a lot of inspiration from my days in the Youth Band. It's a great environment to discover your creativity, so take advantage of programmes that allow you to do that.  Here in New Zealand there's a fantastic Summer School, and then there's the National Youth Pipe Band. Get involved with as many of these things as you can, and be inspired".