Online ticket sales are open
Friday 10 March Adult – $10
Friday / Saturday Combo Adult – $20
Saturday Only Adult – $15
Kids under 16 – FREE
Souvenir Programme – $5
Gate Sales will be available at the main gate – EFTPOS only (no cash)
Friday 10 March Adult – $15
Friday / Saturday Combo Adult – $25
Saturday Only Adult – $20
There is seating available, but only in limited numbers, so please feel free to bring your favourite picnic chair.  We'll have a drop-off zone at the Armagh Street Bridge entrance for anyone with disabilities.  3 hour parking is available in the Botanic Gardens carpark on Friday (although the entrance will be closed from 1pm to 5pm for the Street March), and unlimited time on Saturday (first in, first serverd). There are around 300 spaces available, so be early.  Its a 350m walk from the carpark area to the Armagh Street Bridge entrance.

Newsletter No.2 (November 2022)
The organising committee for 2023 is looking forward to hosting the contest, and welcomes back the event to Christchurch after a 14 year hiatus. We're bringing the contest into the heart of the city to promote our art-form to the public of Christchurch, and are looking to enhance the experience with a number of peripheral activities including Highland Dancing competitions, Highland Games, stalls and food vendors, have-a-go area, a Kids Zone and a variety of exhibition acts during the Saturday activities.
Venue
The North Hagley Park Special Events area is substantial, and will be perimeter fenced for security purposes, with three points of egress. The Armagh Street Bridge will be the main point of entry for general admission. This will also be the drop-off zone for people with mobility restrictions.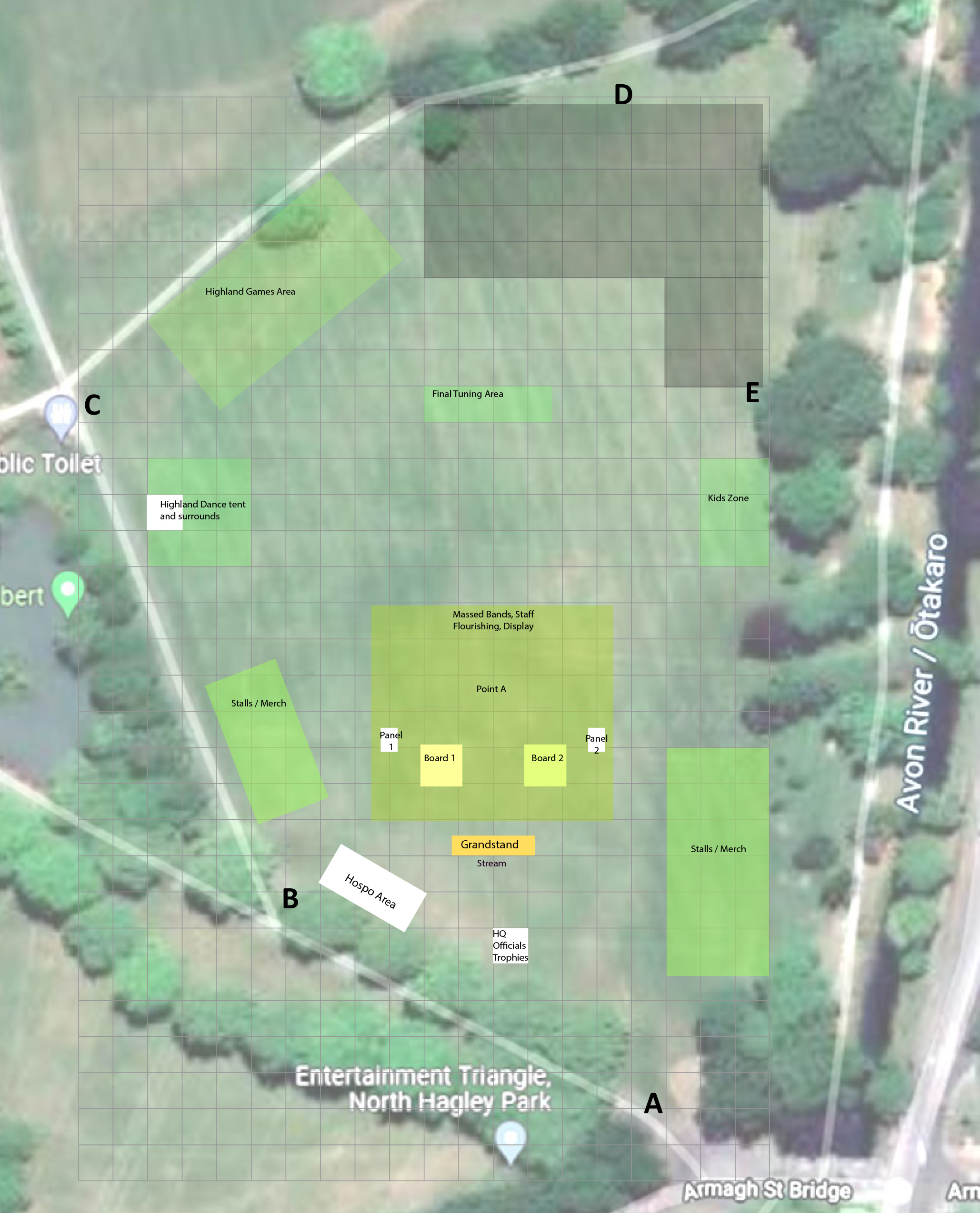 Access & Parking
As previously announced, there is no parking for buses on Hagley Park. Park Terrace beside the river will be a designated drop-off zone, with access via the Armagh Street bridge and foot bridge opposite Salisbury Street. We anticipate being able to supply limited bus parking on Harper Ave.
We have a limited number of car-parks reserved in the Christchurch Botanic Gardens parking area which will be allocated by permit. There is also unreserved general parking available in the same area.
Order of Events
The order of events and the schedule will be determined by the RNZPBA Contest Group, but it is the organiser's desire to have all bands playing on the Saturday, so we hope to have Grades 3 and 4 playing one event on Friday, plus Juvenile, and the Street March on Friday afternoon. Saturday will be the second music event, plus both Grade 2 and Grade 1 events.
The Street March will start from Cranmer Square which is one block east of Hagley Park. The course will include the west side of Cranmer Square, right into Armagh Street then left into Rolleston Ave. The process of applying for the traffic management plan and permit is complex, and we certainly hope no variation will be necessary here.
Tickets & Passes
Passes will be allocated to bands based on their submission of membership in the new year, plus three additional passes for immediate support personnel. For general admission, tickets are now available on-line. There will be limited ticket sales on the day, but no CASH option to purchase (EFTPOS and Credit Card only). The souvenir programme can be purchased on-line also, and collected at the gate when you check in. We also support the Pipe Bands Foundation of New Zealand as a donations recipient.
We have chosen Humanitix as our ticket sales provider.  They are a not-for-profit organsiation with any surpluses made going to selected charities.  
Food & General Vendor Stalls
Provision has been made for up to 40 vendors of food and drinks, plus general merchandise, crafts etc.. If you have an interest in reserving a spot, please contact the organising committee. There will be Hydration Stations at the ground for refillable water bottles, and sunscreen stands provided by the Cancer Society.
A hospitality area and licensed bar will be operating at the grounds. Alcoholic beverage sales will be by ticket only, which can be purchased in the marquee (no cash – EFTPOS and C/C only).
First Aid
St John will be on-site for the duration of the event
Band Tents
Although we have had a number of bands request tent space, there are some who have yet to hire theirs. We have an option to secure a partitioned area in a marquee measuring 60m x 10m, in 3m partitioned areas for $350 incl GST. These are limited, and will be allocated on a first in first served basis, so if you wish to book one, please contact the secretary.
Band Photographs
A photographer will be on-site both days for band photos, to shoot each band after one of the events. Details and pricing will be advised when determined.
Souvenir Programme
If you wish to place an advertisement in the programme, please contact the secretary for prices and dimensions.
Live Streaming
The event will be live streamed. Details of the link will be released in due course.
Contact the Secretary: Clare Fraser clare.fraser@xtra.co.nz

Newsletter No.1
Date
This will be a two-day contest, held on Friday 10th and Saturday 11th March, 2023
Location
The contest will be held in the North Hagley Park Special Events area, which is just three blocks from the centre of the city, and adjacent to the Botanic Gardens, Canterbury Museum, The Arts Centre and Christchurch Art Gallery. Access to the area is via the Armagh Street bridge, corner of Armagh Street and Rolleston Ave.
Partners
Christchurch City Council is right behind the event, and is working with the organising committee in a very positive and proactive manner. Christchurch hasn't seen a major pipe band contest since before the 2010 Canterbury earthquakes, but is now rebuilt, willing and able. The Christchurch City Council Events Team are excited by the prospect of a significant event in the city centre.
We have also partnered with the Hororata Community Trust who run the annual Hororata Highland Games. They'll be assisting us with experience and expertise, and we're discussing a mini–Highland Games and "have a go" area.
We'll be announcing other partnerships in the near future.
Events
The RNZPBA Contest Group will run the contest itself, and determine the final schedule of events, but needless to say, the organisers are working closely with the Contest Group to maximise the potential
We'll have a selection of quality merchant stalls, as well as a host of food and beverage vendors, kids zone, plus a Highland Dance competition, Highland Games exhibitions and more.
Accommodation
Make sure you book your accommodation promptly. Hotels and motels are plentiful in and around the CBD and nearby suburbs, but demand will be high.
Transport for bands
If your band requires a bus, contact details include:
GoBus Transport, 03 335 0357
O'Neill Rentals, 0800 110 110, info@onr.co.nz
Leopard Coachlines, 03 373 8100, sales@leopard.co.nz
Johnston's Coachlines, 03 358 5941/0800 66 2266, info@johnstons.co.nz
Pacific Tourways, 03 359 9133, info@pacifictourways.co.nz
Bentley Transport, 03 595 2168, bus@bentleytransport.co.nz
Ritchies Red Bus, chch.charters@ritchies.co.nz (Greg Jowers)
Clarks Coachline, 03 349 4828
Torlesse Travel, 03 313 3543
Please be aware there is no bus parking at the venue, so keep this in mind when making your arrangements. We are working on some options – more info to follow as and when these develop.
Band tents
Because buses and coaches won't be readily accessible when you're at the contest venue, we recommend booking a tent site (details to follow). If you need to hire a tent, we have vendors able to help:
Event Hire info@eventhire.co.nz 027 627 7833
Party Warehouse 0800 727 899
Hyde Park Hire 03 365 3339
Happy Hire 0800 30 9090
Johnson & Couzins 03 338 0301
Onsite facilities and other information
The venue will include food and drink vendors (including in the tent city area), toilets, a licensed hospitality facility, portable grandstands and limited other seating.
Planning for the Street March course has yet to be finalised, but we're currently working on options in the general vicinity of the main grounds, minimising the need for transport. Initial programming will see the event run on Friday afternoon, but this is subject to confirmation.
Within the next month we will send a form to bands to register their interest in attending the contest. Information we're looking to gather includes tent site booking, details of your accommodation including number of beds booked, if a band host is required etc.
If you have any queries at this early stage, please direct them to the secretary, Clare Fraser clare.fraser@xtra.co.nz
– 2023 Contest Committee.