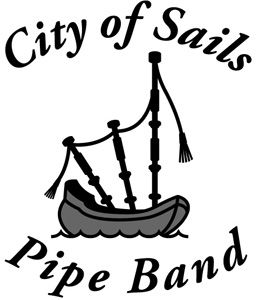 Contact Person: Jane Murray
Position/title: Secretary
Phone: (+64) 21 77 1579
Email: janemrr7@gmail.com
Website: http://cospb.co.nz
Month of AGM: August
Band Practices: Wed 7.30pm Brass Band Hall, 98 Captain Springs Rd, Onehunga
Piping Enquiries: Kerry Ballantyne (+64) 21 867 842
Drumming Enquiries:  Gabriela Hancox  (+64) 21 031 1791
Parades Enquiries: Jane Murray (+64) 21 771 579
Tartan: Red Gordon
The City of Sails Pipe Band was formed in 1992 and in the initial setting up stages it borrowed surplus equipment from other bands.
The band undertook extensive fundraising activities to purchase uniforms and equipment.
The band members and supporters did many unusual activities to raise funds (apart from playing instruments), such as marshalling at multi-sport events, warehouse stock-takes and packaging mail items.
The values and camaraderie built during these events, are still evident within the Band today.
There is a strong history of family involvement with many family groups playing in the Band.
The Band is involved in community teaching programs along with band-based learning which is open to all ages and stages. It actively encourages individual improvement and celebrates individuals' milestones and successes.
The Band is passionate about music and maintains a high public profile by playing at about 40 events a year, which includes: University Graduation Parades, Corporate Functions, Christmas parades, concerts and charity events.
The Band has been a regular competitor in local and National championships and has competed in Australia, Canada and the United States.
In 2014 the City of Sails took two bands to the World Pipe Band Championships in Glasgow.
In 2016 a group of Band members performed in the Royal Nova Scotia International Tattoo in Halifax, Canada, where they were befriended by many international players.