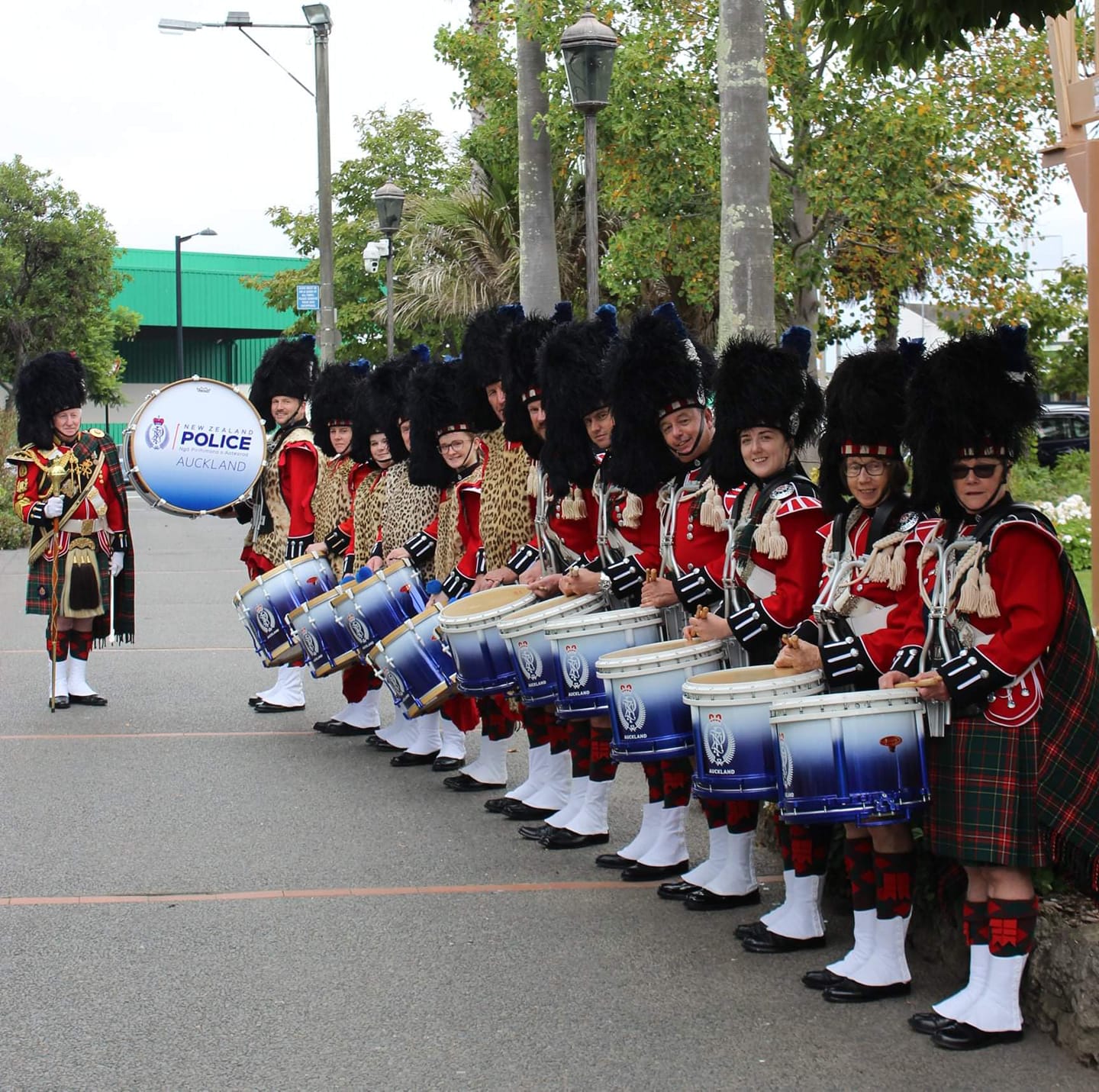 Auckland Police Pipe Band
Contact Person: Brenda Chan
Position/title: Secretary
Phone: (+64) 21 192 9278
Email: appipeband@gmail.com
Website: www.appb.nz
Month of AGM: October
Band Practices: Wednesday evenings, 19:30 Hrs, 28 Sulphur Beach Rd, Northcote Point
Piping Enquiries: Simon Fraser (Pipe Major) simonfraser1989@gmail.com
Drumming Enquiries: Phillip Smith (Drum Sergeant) psmith@icloud.com
Parades Enquiries: Secretary – appipeband@gmail.com
Tartan: King George VI
New members always welcome, including non-Police personnel
The Auckland Police Pipe Band was formed in 1945 and was initially comprised of serving Police officers only, however, over the years, members from outside Police were accepted to join. Today, the band has a mixture of Constabulary and police employees as well as non-police members.
August 2020 was the band's 75th anniversary, which COVID permitting will be celebrated in April 2021. The band is very active and competes at all the relevant competitions locally and in the north island, as well as the national pipe band championships. The band has achieved excellent results across all music and other categories.
In 2018 the band competed in the Australian pipe band championships in Queensland. Overseas tours are an integral part of the Band's non competing season and they have travelled widely, to Alaska, Japan, Vancouver, Indonesia, Hawaii, Washington, China (including playing on the Great Wall), Scotland (to take part in the Royal Edinburgh Military Tattoo (2007, 2009, 2015), Switzerland for the Basel Tattoo 2012 and to neighbouring Australia on several occasions. It participated in the Royal Edinburgh Military Tattoo when it was brought to Wellington, New Zealand in February 2016.
In addition to the overseas engagements, the Band assists the NZ Police with many police related events, which include; Pay parades, formal ceremonies, funerals, graduations and participates in many community events and cultural festivities. The Band has a close liaison with the other service Brass bands and plays together at many ceremonies and military occasions where the band combine.
In May 2019, a contingent of female members from the band joined other musicians from around the country to play at a combined Pipe and Brass band concert known as 'Piping Pink', in Christchurch for breast cancer awareness / fund raising event. The band is always looking to recruit new members and has a number of younger learner pipers and drummers who play with the band at some events.
The Band's tartan is King George VI. The band is one of the few bands who still wear the full highland dress / military style uniform at certain events, as well as the contemporary number two uniform with police shirts etc., and has recently upgraded both these uniforms.